Spread amazement and DISCOVER these easy methods to resolve foot pain.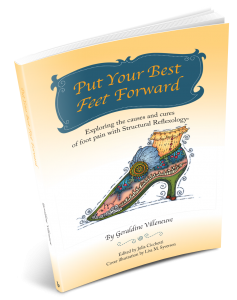 Structural Reflexology®
By Geraldine Villeneuve, BS, LMP, NBCR Structural Reflexologist®
Step by Step Sequences
Using Local and Reflexive Techniques to Relieve Stress in the Foot and Body
©2019 1 hour 24 minutes
Proprioceptive Neuromuscular Facilitation and Passive Foot Mobilization
©2019 25 minutes
What is Structural Reflexology?
Trademarked in 2013 by Geraldine Villeneuve
Structural Reflexology® is the practice of integrating foot reflexology with anatomy, physiology, and kinesiology by using local and reflexive methods to release stress and compensation in the entire body.
Structural Reflexology® addresses tension sites on the feet as the product of local muscle and ligament strain while maintaining an understanding of how these sites of tension on the feet will impact the rest of the body.
Benefits of Structural Reflexology®
Improve foot joint articulation
Improve weight bearing & balance
Improve blood & nerve supply to the feet and body
Relief of compensation in feet and body
Relief of joint tension
Increased strength and vitality in the feet and body.
Geraldine Villeneuve, author of Put Your Best Feet Forward, is an American Board-Certified Reflexologist in practice more than 35 years. Geraldine trademarked Structural Reflexology®
in 2013 as a revolutionary movement to promote foot-health awareness by providing education around more healthful and therapeutic options to resolve foot pain and the resulting compensation in the body. Her goal is to encourage people to regain the vitality of their feet to reduce incidents of foot pain. In order to do so, Geraldine created a map that shows where muscles attach on the foot and their corresponding connection to reflexes associated with other parts of the body. Geraldine practices in
Vermont and teaches Structural Reflexology® classes to health care professionals around the world and now on DVD and Video On Demand.
Testimonials:
Fabulous course! I was lucky enough to train with Geraldine last year and her work is fascinating!Sally K, Wales
I have been utilizing your techniques with success! Invaluable! Can't say enough how much this class has opened my eyes to health. I can't wait to learn more.Sharon M
Just watched your videos Geraldine: They're fantastic! Going to really help me in my practice.Carole B
Thank you for an enlightened class, I just love studying with you and get so much out of it. I've watched the video sequences and it's very good and really helpfulEllen R
Here's what folks say after receiving Structural Reflexology®
Geraldine has kept my feet happy and healthy, allowing me to lead a very active life of hiking, dog/agility, and dancing into my seventies.Lynne, Vermont
After a third surgery to repair my posterior tibular tendon, Geraldine was able to manipulate and strengthen my ankle back to its pre-injury condition. I ran my first 5k last year. Geraldine is a master of her craft, a true professional in her field who gave me my life back and I am eternally grateful.Amy, USA